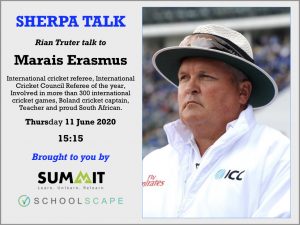 ABOUT THIS WEBINAR
Summit, the educators congress that has made a big difference in the lives of thousands of educators all across the country, and Schoolscape, the organisation that introduces schools to the best products and services in the education landscape, collaborate to bring you Sherpa Talk.
Sherpa Talks is a series of webinars with the main aim of encouraging and inspiring educators in these unprecedented times.
The interviewer, Rian Truter, Founder of Summit, is well known in the education sphere. Having been an educator in public schools for 30,5 years, he is now a highly inspiring motivational speaker, he's also passionate about leadership development, facilitates strategic sessions and team building and does consulting.
The interviewee, Marais Erasmus, is an International cricket referee and the International Cricket Council Referee of the year. He has been involved in more than 300 international cricket games, and is also the Boland cricket captain. Furthermore he is a teacher and a proud South African.
COST: Free, Mahala, Gratis!
DATE: Thursday 11 June 2020
TIME: 15:15
REGISTER: https://app.livestorm.co/schooladvisor/founder-of-the-summit-conference-rian-truter-talks-to-international-cricket-ref-marais-erasmus
NOT AVAILABLE ON 11/6: Register and watch it on your own time.
We would like you to join us on the 11th of June 2020 for the very first Sherpa Talk. Where would the world be without a little bit of inspiration…
(Visited 97 times, 1 visits today)