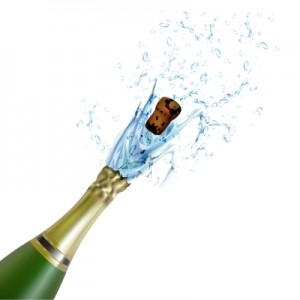 It seems to me that in our daily existence we tend to focus on losing, rather than winning. As if our brain and body are genetically programmed to protect us from the disappointment when things don't work out the way we would like it to.
And to strengthen this losing feeling, things like insurance, medical aids and similar products don't do much to keep the flame of optimism burning high in the human spirit.  To the contrary; you have to be insured against fire, theft, earthquakes and life in general.
Het jy genoeg dekking indien jy ongeskik raak?  Eers gedink die man praat van beskerming teen onbeskofte mense en toe later besef dit is rolstoel- en soortgelyke sake! En het jy geweet dat jy amper nooit genoeg geld gespaar sal hê om te kan aftree nie!
Ons is met papier teen alles wat verkeerd kan loop gepantser.  Onaantasbaar en sogenaamd veilig.  Tot daardie ondenkbare oomblik as jy die Lotto wen!  Wat dan?
Waar is die ballonne en sjampanje (die ware jakob; nie wyn met koolsuurgas nie) dan?  Gaan jy van jou polisse vreugdefakkels maak en 'n glas melk skink om jou miljoenêrskap te vier?
Kom ons besluit vandag om saam met dít wat verkeerd kan loop, ook 'n bietjie meer te beplan vir wanneer dinge met ons reg loop. Kom ons maak aanspraak op die regmerkies van die lewe.
Gaan koop dadelik 'n ordentlike bottel met borrels vir daardie oomblik wat dalk net om die hoek vir jou wag …
Image: digitalart
We tend to live up to our expextations. – Earl Nightingale
The best thing about the future is that it only comes one day at a time. – Abraham Lincoln
What we see depends mainly on what we look for. – John Lubbock
(Visited 63 times, 1 visits today)