Chabi what?
This is the response I was hoping for, because it means I can tell you one of Stellenbosch's best kept secrets. Namely, that you don't have to go to France to experience real champagne. You can taste Method Cap Classique (MCC) on a small little wine farm, called Chabivin, only a few meters outside Stellenbosch.
The idea for Chabivin originated in 2007 between Hendrik Snyman, a young and passionate South African winemaker, and his French hosts Jean-Pierre and Brigitte Charbaut.
Hendrik was working in the Napa Valley, New Zealand and South Africa, gaining valuable international experience in the making of red and white wines.
But he also wanted to gain experience in making Champagne and he thus contacted the Charbaut family, applying for a winemaking job to gain specialist knowledge about Champagne. The family took him in as a foreign son, teaching him about the French culture, the language, the history and secrets of making fine Champagne the French way. After eight months Hendrik was speaking French as if he was born there!
Their friendship grew stronger and at the end of 8 months' priceless experience, Hendrik had to return to South Africa due to winemaking responsibilities. In 2008 Jean-Pierre and Brigitte came for their first visit to South Africa and fell in love with the country. With a little bit of imagination, and a few flutes of Champagne, they started Chabivin. In 2009, Hendrik finally decided to manage Chabivin full time, representing the family's Champagne in South Africa and also pursuing his passion to make a world class sparkling wine.
During 2010, Hendrik stumbled on a small wine farm called Fynbos Winery, only a few hundred meters outside Stellenbosch. At first the owner was reluctant to sell the property but after a few years of renting it to Hendrik and the Charbaut's, he agreed to sell. And the rest is history.
Fynbos was renamed Chabivin and what was once a garden cottage with a chaotic forest is now a MCC estate with a maturation cellar and soon newly planted bubbly clone Pinot noir and Chardonnay. Most of the work on Chabivin was done by Hendrik himself. Not only is he a creative and talented winemaker, but also builder, designer and fantastic host at Chabivin.
Hendrik was born in Pretoria but grew up in Riviersonderend. He matriculated at Oakdale Agricultural High School in Riversdal where he participated in rugby and cricket.
After school he enrolled for a course Viticulture and Winemaking at Elsenburg Agriculture College and between studies even had enough time to play wing for Maties first team! He chose winemaking for he knew a job in an office would not suit his creative personality.
After graduating, his first harvest as a winemaker was at Windmeul Kelder in Agter-Paarl. After this inaugural harvest he travelled the world to gain experience. Back in South Africa, after his French experience, he struggled to obtain a visa to go back to France and he accepted a position as winemaker at Guardian Peak. This position he filled till he realized he was totally hooked on making sparkling wine.
To get to know Hendrik better, I asked him the following questions:
• Why did you become a winemaker?
   I am a creative person and winemaking is like art. It tells the story of whom and what you are. It's liquid poetry! And it's in nature and you get the privilege to create something unique.
• What is the best wine you have made?
   Guy Charbaut while working abroad and locally the base wine of our 2012 MCC.
• The best wine you have drunk?
   Champagne Salon 1964 or 1979.
• If not a winemaker, what else?
   Architect.
• What's left on your bucket list?
    Backpacking in Europe searching for small and unknown wineries.
• What pet(s) do you have?
    Alaskan Malamute and a cat.
• What's your favourite TV program?
  I don't have a TV, but when I do watch TV it's mostly Sport, Mythbusters or Ultimate Survival.
• What songs do you sing in the bar/shower/car?
   3 Doors down – Be like that.
• What motto do you live by?
   Honesty, integrity and transparency.
• What do you think of box wine?
   No comment!
• What wine do you drink if not your own?
   Chardonnay and Pinot Noir. I also appreciate a local beer brewed by some of our prestige breweries.
• In which wine/cultivar did Jesus changed the water at the wedding reception in the New Testament?
   Pinot Noir, because it's a challenge and Jesus would not have chosen the easy way out!
• Tent or hotel?
    Tent
• How do you relax?
  Play the guitar. Wine tours. Visiting places like Greyton and cooking.
In the tasting glass: Mademoiselle Mégane NV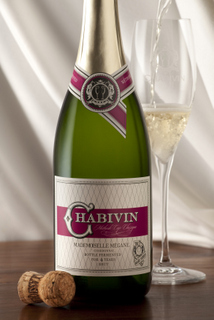 Age of vines: 3 – 11 years
Cultivar: 100% Chardonnay
Yield: 7 – 13 tons/Ha
Alcohol: 11.59% Vol.
Residual sugar: 8 g/l
pH: 3.18 g/l
Total acid: 6.9 g/l
Volatile acidity: 0.34 g/l
In the cellar: Cold fermentation in stainless steel tanks for 4 weeks. Stored in stainless steel tanks until bottling date.
Blend: 100% Chardonnay of Breedekloof origin.
Tasting notes: Crafted from some of the Cape's finest parcels of Chardonnay, bottle fermented and patient maturation for four years prior to disgorgement – this single varietal sparkling wine erupts from the glass with roast nut, freshly baked brioche and biscotti aromas, while zesty lime and gooseberry flavours refresh and tantalize the palate. Excite the senses with liquid poetry!
Chabivin Champagne & Méthode Cap Classique House
Tel: +27 (0) 21 880 1643
Champagne resembles us. It is made in our image. It bubbles like our spirit; it is piquant like our languages; it sparkles and chatters and is constantly in motion. – Adolph Brisson
As symbols go, champagne is extra ordinary powerful. It makes you feel like it is Sunday and better days are just around the corner. – Marlene Dietrich
Too much of any thing is bad, but too much Champagne is just right. – Mark Twain
(Visited 246 times, 1 visits today)